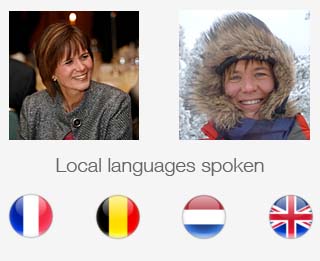 Liselotte Baeijaert
Liselotte is a Solution Focused change practitioner, facilitation expert and executive coach. She has over 23 years experience in global businesses, including financial services, pharmaceutical industries, executive environments. She also worked for non profit organisations, schools and universities. She has operated in restructuring processes, growth, and talent management projects.
As a business owner, Liselotte co-creates process driven change with executives and teams, aligning overall sustained behavioural change with strategy. She has designed and facilitated both small and large scale interventions, and she coaches leaders and executives in different work environments.
She holds university degrees in philology (literature and linguistics), drama and pedagogical skills (University of Louvain, Belgium) and completed courses in Gestalt Coaching and Counseling, NLP, R.E.T., Solution Focused Management and Coaching and several specialised leadership, facilitation and personal development programs. Liselotte has worked with many cultures, especially in Asia and Europe.
Liselotte is married and has three children. In her spare time, she likes going on trips, reading, hiking, enjoying life and hanging out with friends.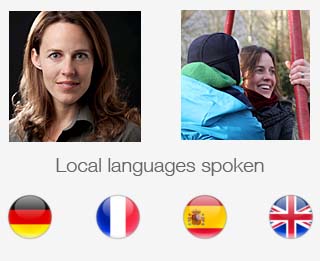 Annie Bordeleau
Annie Bordeleau has been working as a Communication Skills Coach, Facilitator and Trainer for more than 20 years and specializes in enhancing the efficiency of communication processes in international companies.
As an Intercultural Trainer and Solution-Focused Coach, her approach is lean and very closely adapted to her client's reality. She takes the time with her clients to step away from the rush of things and solely focus on the changes that they want to notice happening.
Annie's core skills lie in conflict management, team building and solution-focused coaching. She is currently fascinated with:
Questions, their qualities and how to lead with them
How to tailor messages to the receiver
How to mediate conflicts by focusing on what works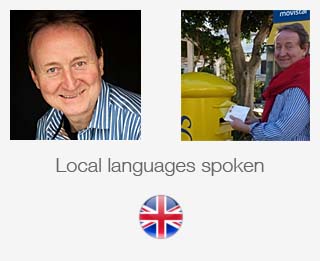 John Brooker
John Brooker is a professional meeting facilitator and innovator, working with teams on a truly international basis, across Western and Eastern Europe, Middle East, Africa and Asia. He encourages teams to think innovatively using his own Inn8 Approach and Solution Focus, so that they can achieve difficult targets, tackle complex challenges and maximise major opportunities. He is the author of Innovate to Learn, Don't Learn to Innovate. The Inn8 Approach detailed in the book has  been licenced by Unipart for internal use since 2014.
John's career commenced with service in the RAF. He joined Visa International in 1985 as an ATM engineer and became a Senior Vice President in 1996. His focus in his time at Visa was on on innovation and transformation including conception, establishment and operation of the Visa Bank Card School business. He left Visa to establish Yes! And in 2001. John has an MBA (Open) and was a highly regarded tutor on the Open University MBA Programme, "Creativity, Innovation and Change" for 14 years.
John was  Highly Commended in the Open University MBA Alumni Awards 2014, for his professional use of creativity to help organisations innovate to create winning propositions and transform. See his award video here.
John is President of Solution Focus in Organisations. He has worked with Solution Focus way since 2004.
His regular clients include or have included companies such as Airbus, BT, Cegedim, HS2 Ltd, Unipart and Visa, to name a few.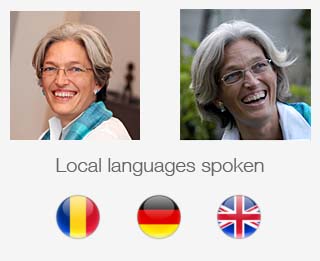 Petra Muller-Demary
Petra is an Accredited Senior Coach (IIC & M – International Institute of Coaching and Mentoring), a Professional Certified Coach (ICF- international Coach Federation) and founder of SolutionSurfers Romania. She is originally from Germany (Köln) and has lived in Romania since 1995. Petra has more than 25 years of experience in the field of Human Resourses and Management Development.
Today she works as an Executive Coach, Team Coach and Business Consultant in various European countries. After several years in an international company she continued her career as an independent consultant and supported the development of her clients with various projects building up her reputation as one of the leading Coaches and Systemic Business Consultants in Romania. Her clients appreciate her rich professional experience combined with a fresh, creative approach, which encourages them to think out of the box and to develop surprising solutions.
Her working experience includes:
Several years in the HR department of Henkel an international company based in Germany
Since 1995 independent consultant (assessment, management audit, management development
Since 2007 Executive Coach for TGCP international www.sprengcoaching.com
Since 2011 Coaching Partnership – Co-founder www.coaching-partnership.ro
Petra's clients have included:
ABB Romania and Bulgaria, Baumax, BCR, Boehringer Ingelheim, Cosmote, Danone, ING, Ipsos Integrative Systems, Meteo, Metro Group, Milupa, New Holland Romania, News Outdoor, Orange, Otto International, Raiffeisen, Real Hypermarket, Roche, Sandoz, Selgros, Unilever, Vodafone.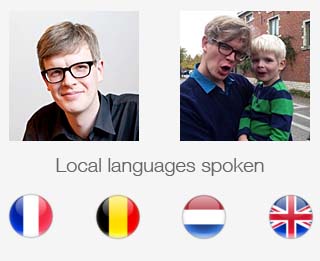 Anton Stellamans
Anton is a solution focused coach, trainer, speaker and consultant. He co-founded Ilfaro with Liselotte Baeijaert in 2007. Anton has many years of experience on executive level in global profit (finance, pharma, food and manufacturing industries) and not for profit organisations (international ngo's, schools, universities). In his work he engages his clients in lively conversations about what's wanted and what is already happening that can be used to move forward.
He holds 2 MA degrees in Philosophy and History and a degree in pedagogical skills (University of Leuven) and complemented his academic studies with a 4 year training in Solution Focused Brief Therapy and Coaching at the Korzybski-International Institute. Since 2011 he is also engaged as a member of staff and trainer at that institute. Before establishing Ilfaro, Anton worked at the Center for Peace Research and Strategic Studies of the University of Leuven. He did field work in Northern Ireland and hosted several peace conferences in Kosovo and RDCongo. He continues to improve his teaching, coaching, management & leadership skills through workshops, conferences and peer learning.
Anton is co-editor of InterAction, the Journal for Solution Focus in Organisations. Together with Liselotte Baeijaert, he wrote a book on resilience (Resilient People, Resilient Teams) that has been published in English, Dutch and German.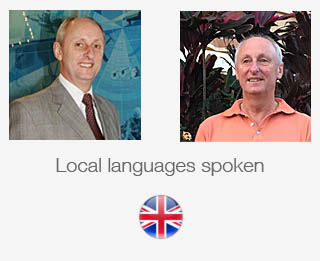 Jeff Parker
Jeff is a former Royal Air Force officer specialising in telecommunications and latterly worked for EADS Defence and Security, (now Airbus Defence and Space) as a Vice President of Business Development and Sales (UK and US). He has with many years practical experience of innovating to win high value contracts both in the UK and overseas. He has worked in Germany and in the USA.
Jeff spent 15 years defining Strategy and driving it through Business Development and Sales so that the selection of opportunities on which to Bid aligned with business growth and profitability. He worked closely with Bid Teams, to identify ways to discriminate their proposals against competition, through innovative solutions and development of creative bid presentations for the tendering organisations. In 2011 he set up his own company Jeff Parker Business Innovation to provide consultancy to businesses who want to employ innovation as a business discriminator. With Yes! And…
Jeff now acts as a Coach in our Inn8 Innovative Workshop Programmes.